Call for Panel and Paper Proposals!
We are very excited to announce that a Research Network proposal for the creation of a section titled "Pushing the Boundaries of Research on Statehood, Sovereignty, and Conflict" at the ECPR General Conference 2022 has been accepted. The full program, including our section details can be found here. We encourage the submission of proposals from Network members in particular. Please reach out to the steering committee with any questions.
Call for Papers!
Network members Valentin Clavé-Mercier and Karolina Werner are pleased to announce that they will be holding a ECPR Joint Sessions (virtual) workshop on "Sovereignty, Governance, and Indigenous Peoples: Engaging with Indigenous Political Thought". Paper proposals are invited from everyone in the network (and beyond) interested in the workshop. Submissions can be made here and are due on February 2, 2022. Please find the call for papers attached.
Join our Business Meeting!
The business meeting of the Statehood, Sovereignty and Conflict Research Network will take place via Zoom on Monday, 30 August 2021 from 17:00 – 18:00 CEST. The zoom link has been emailed to all members. If you are not yet a member or did not receive it, please email steercomsscrn@gmail.com and we will share it with you!
---
Launch of the Research Network!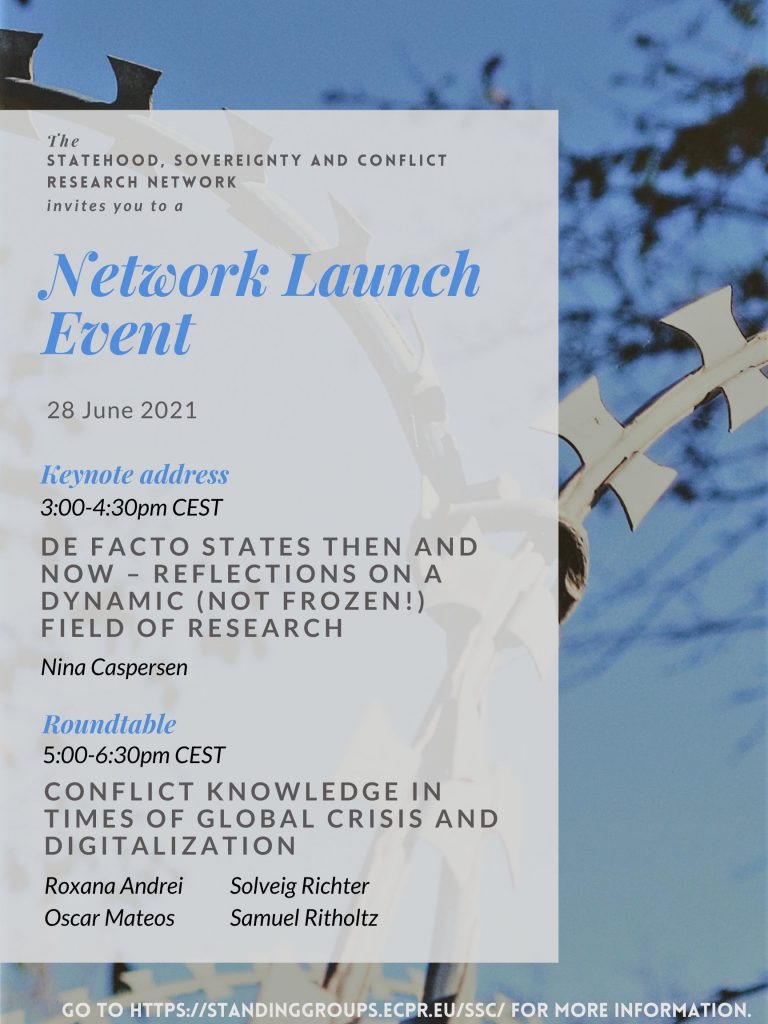 On 28 June 2021, our Research Network was launched through an online event that included a keynote talk by Nina Caspersen (University of York) on 'De Facto States Then and Now- Reflections on a Dynamic (Not Frozen!) Field of Research' and a Roundtable discussion on Conflict Knowledge in Times of Global Crisis and Digitalisation with Roxanna Andrei (University of Coimbra), Oscar Mateos (Blanquerna-URL), Solveig Richter (University of Leipzig) and Sam Ritholz (University of Oxford). Follow here to view the recording of the keynote talk and the roundtable.
---
CALL FOR PAPERS! Secession and (Post-)Liberal International Relations
We are inviting abstract submissions for an online workshop on Secession and (Post-)Liberal International Relations to take place 3-5 November 2021. For more information, please see the call for papers below.