ECPR DI-SG / APSA DI-SG / Red Politólogas / PDD PSA
'Democracy Rebooted: Deliberative Responses to Planetary Challenges?' is a four-part webinar hosted by the ECPR Standing Group on Democratic Innovations, APSA Democratic Innovations Related Group, Red de Politólogas, and the PSA Participatory and Deliberative Democracy Group.
Throughout October, these weekly webinars will feature a prominent scholar in conversation with early or mid-career researchers (Ph.D. students, post-docs, lecturers). These virtual seminars are designed to critically question the role of democratic innovations in responding to planetary challenges like growing autocratization; the current racial contract; the ecological crisis; and the exclusion of nonhuman animals from decision-making spaces.
Participants are encouraged to take part in the conversation as well.
Topics/Speakers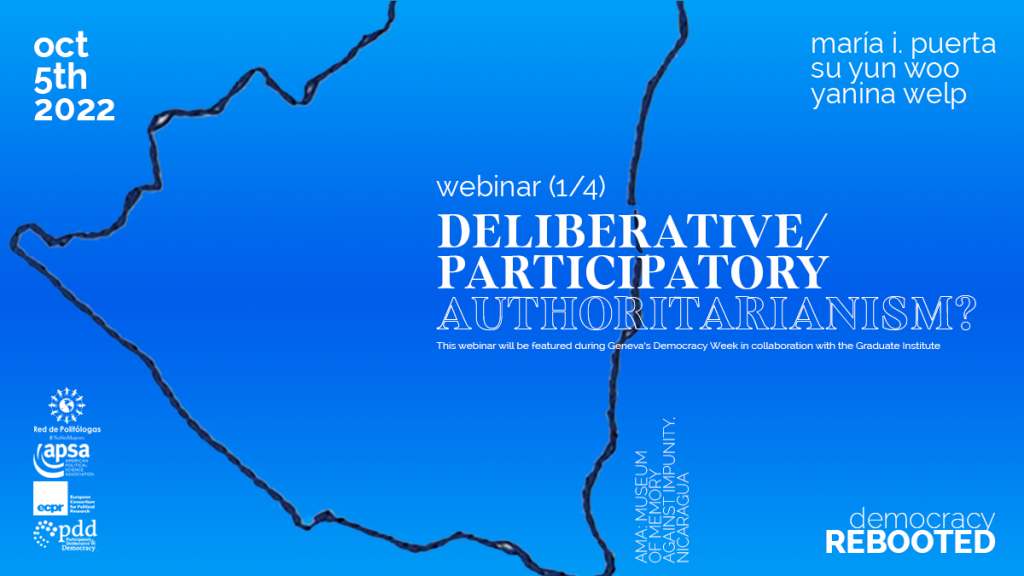 Participatory/deliberative Authoritarianism? (Red Politólogas) – October 5th – 3pm CET
Description: The ideas and institutions established to increase citizens' deliberation and participation in public matters have usually been associated with democratic settings. However, not only do authoritarian regimes also develop strategies of legitimation through citizen engagement, but they are also increasingly disputing the meaning of 'real democracy'. This webinar will focus on the development of participatory and deliberative institutions in authoritarian countries to explore approaches and outcomes.

Link to register: https://uni-potsdam.zoom.us/meeting/register/u5Isf-2rqjgiGdXMsYqSjJPzEs9p_dJW_90J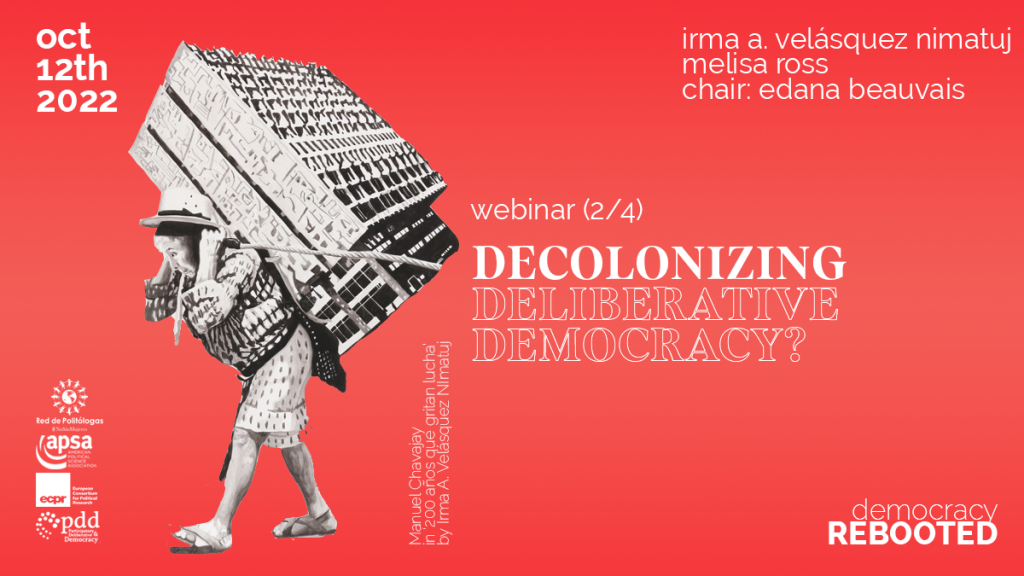 Decolonizing Deliberative Democracy (APSA-Participedia) – October 12th, 4pm CET
Link to register: https://uni-potsdam.zoom.us/meeting/register/u5YodO2qrDkvGdzvxFU5uYfMR32KuMilFvHO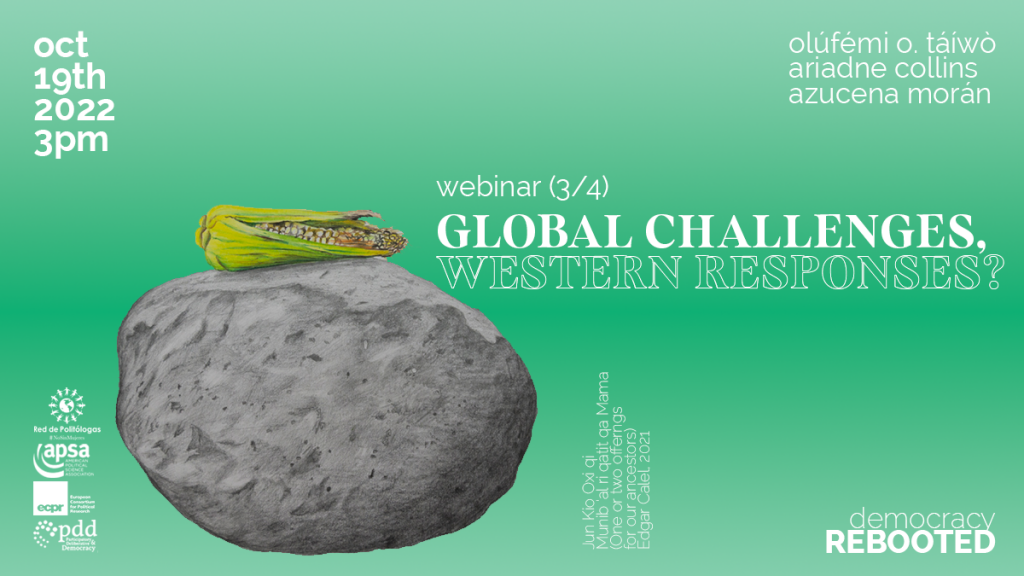 Planetary challenges, Western responses? Deliberating the climate transition with(out) affected communities (ECPR) – October 19th, 3pm

Description: Democratic innovations such as climate assemblies have been increasingly implemented to collectively design policy responses to the ecological crisis. Examples like the French Convention citoyenne pour le climat and COP's Global Assembly have been used to argue that democratization can drive decarbonization. Yet, Western scholars and actors within the deliberative turn have largely overlooked the complexities of deliberative and participatory mechanisms in the territories most affected by both climate change and the green transition—and the failures and limits of long-established participatory mechanisms such as ILO169. Can Western-centered deliberative mechanisms address the need for decarbonization without further entrenching the current global racial order? How can dominant practices respond to the demands of autonomous forms of deliberation and resistance?
Link to register: https://uni-potsdam.zoom.us/meeting/register/u5Mkcuyorz4rGNerU0Tegz1_kq5f5AIYeBkW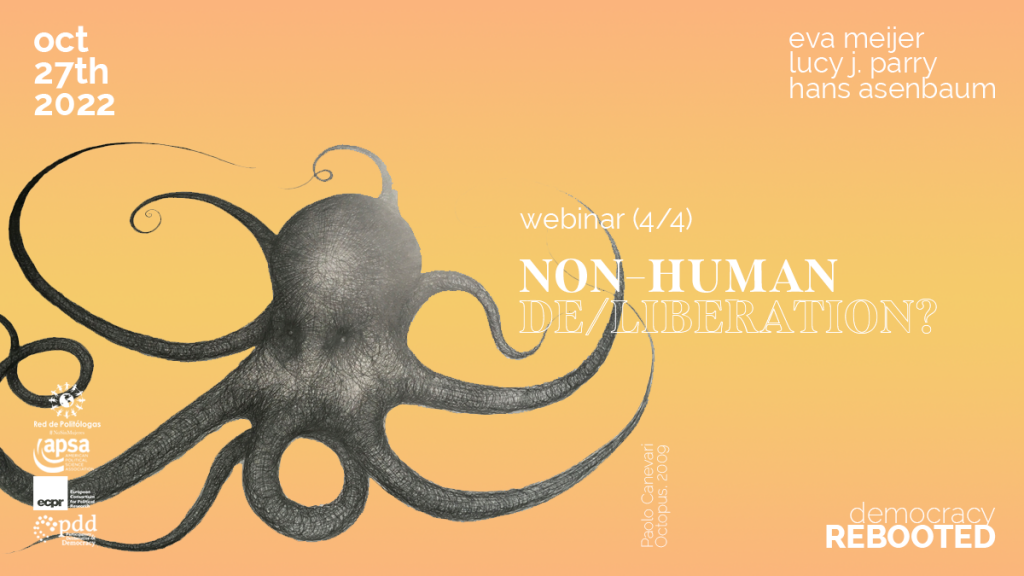 Non-Human De/Liberation – PSA – October 27th, 11am CET
Description: This session will inquire how non-human animals can participate in democracy. As humans increasingly share living space with nonhuman animals often displacing them from their lands, finding new ways of establishing inter-species dialogue becomes ever more pressing. How do animals communicate? Which democratic animal practices can humans learn from? And how can humans enter into deliberation with animals?
Link to register: https://uni-potsdam.zoom.us/meeting/register/u5Utf-GqqjopEtQsnCN5UxL5qBhTI-7GjBec