The Standing Group on Democratic Innovations will host a section at the ECPR Joint Sessions from 25-28 May 2021. Please see the call below and we hope you can circulate it to our networks. Thank you to panel chairs Azucena Moran (Institute for Advanced Sustainability Studies), Diletta di Marco (Politecnico di Milano) and Oliver Escobar (University of Edinburgh) for organising this event.
We also would like to cross-promote the section organised by our colleagues from the Standing Group on Political Theory. The announcement is also pasted below.
—
Call for papers: The wicked, the Tame, and the Planetary: a Critical Review of Participatory Processes led by Academia
Sponsored by the Standing Group on Democratic Innovations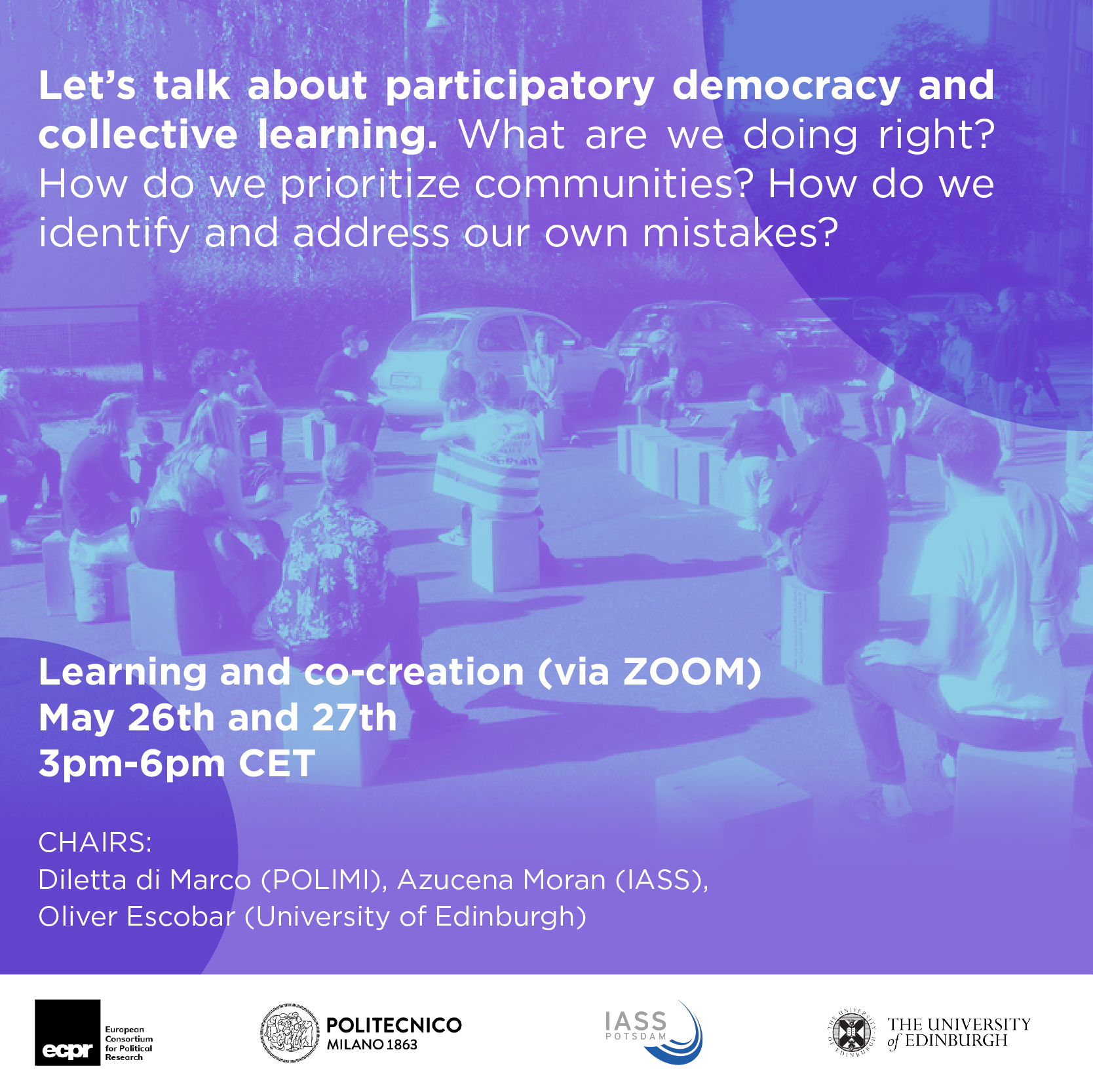 The challenges, impact, legitimacy and temporalities of citizen-led spaces of participation and deliberation divert greatly from those of government-led processes. An ever-growing number of processes of participation led or designed by academia could attempt to narrow down the gap between citizen-led and government-led designs. Should we? What are we doing right? How are we ensuring equity and equality? (Can we?) How do we identify and address our own mistakes?
The aim of this innovative workshop is to critically assess the role of academia to convene, ideate, implement or assess spaces of participation and deliberation. During this workshop, we will produce a collaborative framework and draft two co-authored (academic and non-academic) papers. Participants in this workshop are expected to attend all sessions in the workshop and take part in editing the collective piece after the workshop.

Paper proposals are due on 8 February.
A longer description of the workshop is available here.  Please submit your abstracts here.
—
Call for papers: Democratic Equality and Voting Rights
Sponsored by the Standing Group on Political Theory
This year ECPR Joint Sessions will include a workshop in political theory entitled "Democratic Equality and Voting Rights". Since there is a strong tendency to presume equal voting rights to be a prerequisite for a polity to qualify as a democracy, is this presumption warranted? This workshop welcomes all papers that address voting equality, its normative justifications, its conceptual connections to democracy, and its empirical implications for contemporary democracies.

This will be a virtual workshop and will be conducted on the 27-28th of May as part of the ECPR Joint Sessions. The call for papers is now open and the deadline is February 8th.

A longer description of the workshop can be found via this link: https://ecpr.eu/Events/Event/PanelDetails/10481
And here's the guide for proposing a paper: https://ecpr.eu/Events/Event/Content?ID=914&EventID=150

The workshop is organized by members of the REDEM project (http://www.redem-h2020.eu/index.html) and endorsed by the ECPR Standing Group in Political Theory (https://standinggroups.ecpr.eu/theory/).

For all information, please write to: chiara.destri@sciencespo.fr