Religious Radicalization and Securitization in Canada and Beyond
Edited by Paul Bramadat and Lorne Dawson
2014, University of Toronto Press, Scholarly Publishing Division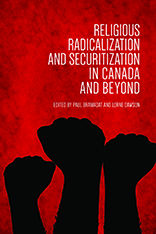 http://www.utppublishing.com/Religious-Radicalization-and-Securitization-in-Canada-and-Beyond.html
Description
After the terrorist attacks of 9/11, those in London and Madrid, and the arrest of the "Toronto 18," Canadians have changed how they think about terrorism and security. As governments respond to the potential threat of homegrown radicalism, many observers have become concerned about the impact of those security measures on the minority groups whose lives are "securitized."
In Religious Radicalization and Securitization in Canada and Beyond, Paul Bramadat and Lorne Dawson bring together contributors from a wide range of academic disciplines to examine the challenges created by both religious radicalism and the state's and society's response to it. This collection takes a critical look at what is known about religious radicalization, how minorities are affected by radicalization from within and securitization from without, and how the public, media, and government are attempting to cope with the dangers of both radicalization and securitization.
Religious Radicalization and Securitization in Canada and Beyond is an ideal guide to the ongoing debates on how best to respond to radicalization without sacrificing the commitments to multiculturalism and social justice that many Canadians hold dear.
Editors
Paul Bramadat is the Director of the Centre for Studies in Religion and Society and an associate professor in the Department of History and the Religious Studies Program at the University of Victoria.
Lorne Dawson is a professor and Chair of the Department of Sociology and Legal Studies at the University of Waterloo.
Contents
List of Figures and Tables
Acknowledgements
1. The Public, the Political, and the Possible: Religion and Radicalization in Canada and Beyond (Paul Bramadat)
RELIGION AND RADICALIZATION
2. Beating a Path to Salvation: Themes in the Reality of Religious Violence (Ian Reader) 3. Trying to Make Sense of Homegrown Terrorist Radicalization: The Case of the Toronto 18 (Lorne Dawson) 4. Pluralism and Radicalization: Mind the Gap! (Valérie Amiraux and Javiera Araya-Moreno) 5. Securitization and Young Muslim Males: Is None Too Many? (Peter Beyer)
SECURITIZATION AND CANADIAN ETHNO-RELIGIOUS MINORITIES 6. The Impact of Securitization on South Asian Muslims in Montreal (Uzma
Jamil)
7. The Sikhs in Canada: Culture, Religion, and Radicalization (Doris R.
Jakobsh)
8. Religion, Politics, and Nationalism in Tamil Militancy in Sri Lankan and the Diaspora (Amarnath Amarasingam)
PUBLIC DISCOURSE AND RELIGIOUS RADICALIZATION 9. Religion, Reporting, and Radicalization: The Role of News Media in Securitized Discourses (Joyce Smith) 10. The Cross-Cultural Roundtable on Security as a Response to
Radicalization: Personal Experiences and Academic Reflections (Edna Keeble) 11. Narratives, Identity, and Terrorism (Sean Norton and Afzal Upal) 12. Conclusion (Paul Bramadat and Lorne Dawson)