7 – 26 June 2021, Virtual event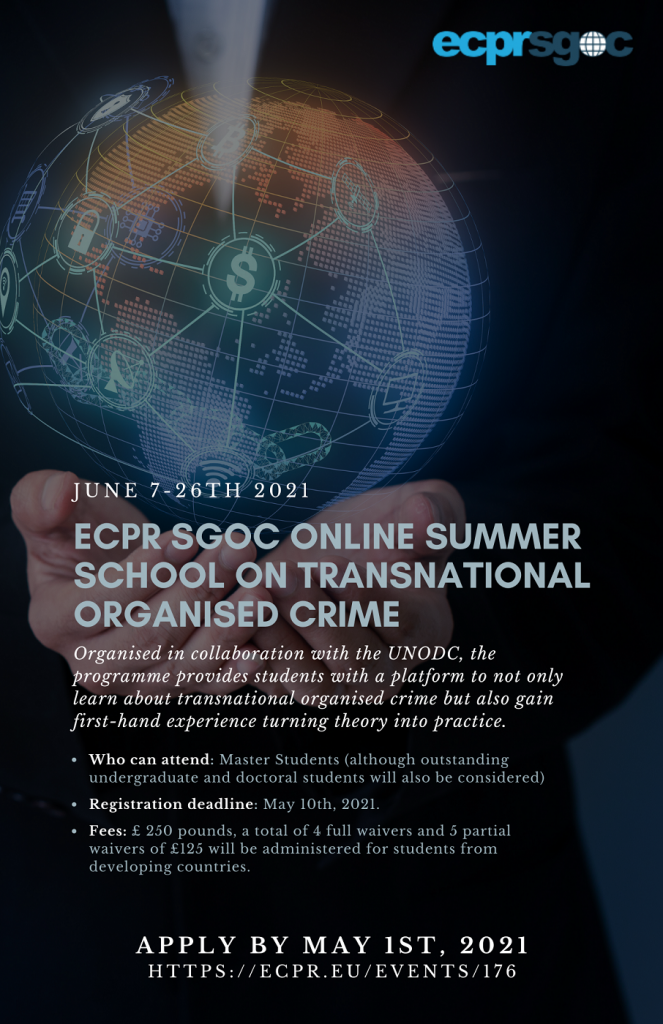 Our Standing Group on Organised Crime (SGOC) is pleased to announce its first online Summer School on Transnational Organised Crime. Held in a new all-empowering and equal opportunity format, the remote programme offers a remarkable learning experience from the comfort of your own home.
As with previous SGOC Schools, the programme is intended to enhance interactions between scholars and practitioners while providing a deeper understanding of the challenges posed by — and potential responses to — transnational organised crime.
In collaboration with the United Nations Office on Drugs and Crime (UNODC), the Summer School utilises the unique expertise of seasoned professionals to provide instruction on — and facilitate a deeper understanding of — the dynamics of transnational organised crime. More on the cirriculum.
The Summer School will give you the chance to:
Distinguish the ways in which criminal activities and structures transcend international borders;
Explain how the current nature of international borders both restrains and provides opportunities for crime;
Critically assess the validity and reliability of data on transnational crime;
Identify major elements of the legal and institutional framework for international cooperation against transnational organised crime and assess their impact on containment;
Examine how states utilise the international legal framework to prevent and combat organized crime;
Scrutinise private sector, public-private and civil society responses to transnational organised crime and identify best practices
Gain first-hand experience contributing to the SHERLOC Knowledge Management Portal, an initiative developed by the UNODC
Assist in the dissemination of information on the implementation of the UN Convention against Transnational Organized Crime and its three supplementing Protocols
There is a limit of 50 participants for this Summer School, so submit your application early!
Organisers, faculty and speakers
Organisers
Director Yuliya Zabyelina
Assistant Director Nicole Kalczynski
Steering Committee Felia Allum and Maria Cristina Montefusco
Lecturers, speakers and seminar facilitators
Alberto Vannucci University of Pisa, Italy
Alex Reid Royal United Services Institute, UK
Anita Lavorgna University of Southampton, UK
Baris Cayli University of Derby, UK
Brendan Marsh Queen's University Belfast, UK
Colin Craig UNODC
Daan van Uhm Utrecht University, Netherlands
Deborah Alimi University Paris 1 Panthéon Sorbonne, France
Dina Siegel Utrecht University, Netherlands
Diorella Islas The Government of Mexico, Mexico
Dmitry Orlov UNODC
Fabrizio Sarrica UNODC
Felia Allum University of Bath, UK
Flavia Romiti UNODC
Helena Ferrand Carapico Northumbria University, UK
Jay Albanese Virginia Commonwealth University, USA
Kimberley Thachuk The George Washington University, USA
Liz David Barett University of Sussex, UK
Marco Dugato University of Bologna and Transcrime, Italy
Maria Cristina Montefusco UNODC
Mark Williams Royal United Services Institute, UK
Morgane Nicot UNODC
Neil Walsh UNODC
Riikka Puttonen UNODC
Shahrzad Fouladvand University of Sussex, UK
Simon Harding University of West London, UK
Simonetta Grassi UNODC
Sine Plambech Danish Institute for International Studies, Denmark
Siria Gastélum Félix Global Initiative against Transnational Organized Crime
Stan Gilmour Thames Valley Police, UK
Tanya Wyatt Northumbria University, UK
Yuliya Zabyelina John Jay College of Criminal Justice, USA
How to apply
Submit your application via this form by Saturday 1 May.
You'll be notified about the outcome of your application by Sunday 9 May. If you are successful, you'll receive a link to register.
Registration and fees
Registration fee: £250
The fee includes study materials and a certificate of completion.
Students from developing countries can apply for a full or partial waiver of the participation fee. A total of 4 full waivers and 5 partial waivers of £125 will be administered.
Successful applicants can register between Monday 10 May and Tuesday 25 May.