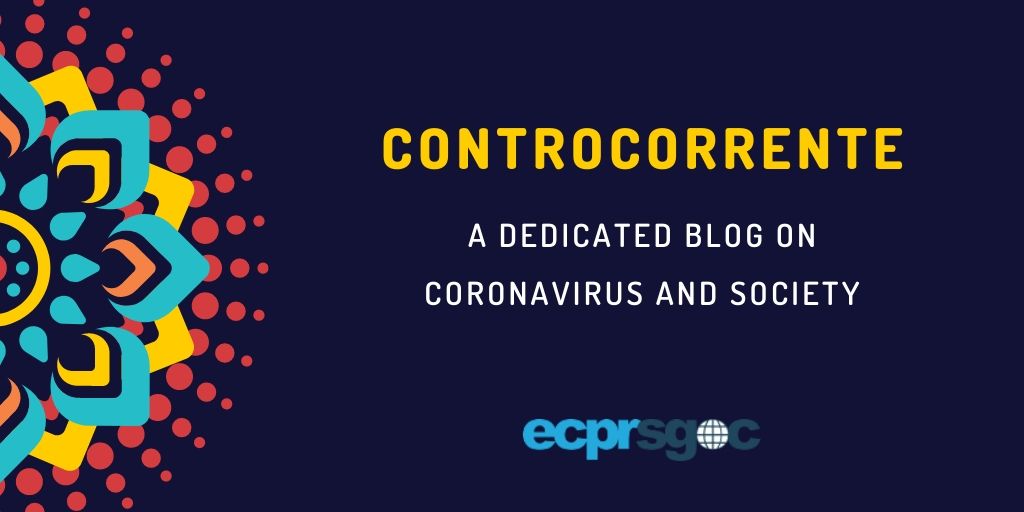 Controcorrente, a blog diary. 
Reflections and thoughts by academics and practitioners about Coronavirus, daily life and society. 
This is a spontaneous blog space that we have created to act as a historic diary to record and reflect the feelings, thoughts and concerns of academics-practitioners during this Covid-19 pandemic. 
The aim of this blog is for our SG and its networks to have a voice about how they see, feel and analyse the current situation. 
We welcome contributions from all over the world.
Please email them to Dr Baris Cayli Messina:
B.Cayli@derby.ac.uk 
Please note that as the blog has completed it's mission, we do not accept articles for the blog anymore.
You can read the blog articles by clicking the titles:
1)Online learning experts: More than 15 minutes of fame? How the corona-pandemic elevates online learning experts from obscurity into the spotlight by Alexandra Mihai – 23 March 2020
2) Five Questions that could be Answered in Living though the COVID-19 Pandemic by Jay Albanese –  23 March 2020
3) "It was just a flu", they said? by Deborah Alimi – 25 March 2020
4) Corona and Sweden by Carina Gunnarson – 30 March 2020
5) The Socio-Economic Impact of Covid-19 in India: a comparison with the Black Death by Prem Mahadevan – 30 March 2020
6) Organized Crime and Covid-19 by Martina Bedetti – 30 March 2020
7) "New" Criminal conduct and law enforcement challenges during COVID-19 in Peru by Fátima Rojas Boucher  – 30 March 2020
8) Wavering between optimism and pessimism: Covid–19, corruption and organised crime by Heather Marquette  – 31 March 2020
9) Coronavirus, recession, and drug markets in Ireland by James Windle – 5 April 2020
10) Between safety and surveillance by Simona  Guerra – 5 April 2020
11) Covid-19, Europol and humankind by Cyrille Fijnaut – 15 April 2020
12) Impacts of the Covid-19? by Sayaka Fukimi – 15 April 2020
13) The Great Pandemic by Fausto Carbajal Glass – 15 April 2020
14) Auto-etnography of everyday Covid-19 Edinburgh by Chris Holligan – 15 April 2020
15) Challenging isolation is a revolutionary act by Galadriel Ravelli – 15 April 2020
16) From the corona crisis towards a new Enlightenment by Guido Palazzo – 28 April 2020
17) An academic of the floating world (with apologies to Ishiguro) by Niall Hamilton-Smith – 28 April 2020
18) Living and Adopting to the Coronavirus by Stephen Musau – 28 April 2020
19) Between Covid-19 and Organised Crime: Some preliminary notes by Ludmila Quirós – 28 April 2020
20) Is the Covid-19 threat a chance for the UK Police service to resurrect its relationship with the General Public by Aubrey A Jones – 28 April 2020
21) How mafia-type groups respond to Italy's Covid-19 economic emergency by Martina Bedetti – 5 May 2020
22) Misuse or missed use of data? Considerations for a Public Health Approach by Lewis Prescott-Mayling – 5 May 2020
23) Never waste a good crisis – 5 May 2020
24) A Criminologist's musings on the pandemic and wildlife trade and trafficking by Tanya Wyatt – 10 May 2020
25) My online teaching during the pandemic of Covid-19 by Joselle Dagnes – 20 May 2020
26) Requiem for students by Georgio Agamben – 27 May 2020
27) Chance or hurdle? Covid-19 and yakuza's adaptation skills by Martina Baradel – 27 May 2020
28) Pressing Questions of the Covid-19 Pandemic: Geopolitical Trends, the Future of Academia, and What's for Dinner? by Ellen Gutterman – 10 June 2020
29) The COVID-19 pandemic and the epidemic of rights violations in Brazil – the alarming state of prisons by Sérgio Adorno and Camila Nunes Dias – 29 June 2020