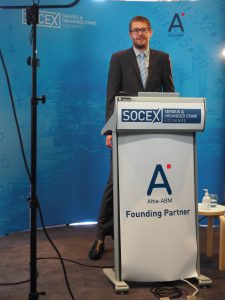 We are delighted to announce that Chris Allen joins SGOC as Media Editor. He will responsible for the management of SGOC's twitter account, webpage, and communication.
You can find the short bio of Chris below:
Chris Allen is a researcher, lecturer and consultant specialising in transnational organised crime and how it is policed.
He is currently Honorary Research Fellow and Course Director for the PG Cert/MA Transnational Organised Crime at the University of Buckingham. The course, which he designed and delivers on a part time basis, focuses on how organised crime operates.
In parallel, he is a PhD Scholar at the Liverpool Centre of Advanced Policing Studies within Liverpool John Moores University, where he is in the final stages of completion. He is also experienced guest lecturer and has lectured both at LJMU and the University of Gloucestershire.
Furthermore, he is also creator of the U BATTLE toolkit, an investigative strategy development tool that began under City of London Police in 2018 and has since gained national and international recognition. It is now operated by Criminis Training and Consultancy Services, of which Chris is Director