New SGEU Online Seminar Series on the EU – Next Seminar "EU regulation between uniformity, differentiation, and experimentalism: electricity and banking compared" on 16 December, 15:00 – 16:30 GMT / 16:00 – 17:30 CET
The Standing Group on the EU (SGEU) of the European Consortium for Political Research (ECPR) is delighted to announce a new online seminar series, which will take place on the third Thursday of each month from October through April. In this seminar, scholars at a variety of career stages will present work-in-progress on cutting-edge issues in the study of the EU, followed by commentary from a discussant and Q&A with the audience. The series is organized by Nathalie Brack (Université Libre de Bruxelles) and Jonathan Zeitlin (University of Amsterdam), who will moderate the discussions. The series is open to anyone interested, who must register through the ECPR website here. Participants will need a free MyECPR account to register.

The next seminar in the series will take place on Thursday 16 December, 15:00 – 16:30 GMT / 16:00 – 17:30 CET. Details on the seminar and the speakers follow below. We hope to see many of you there!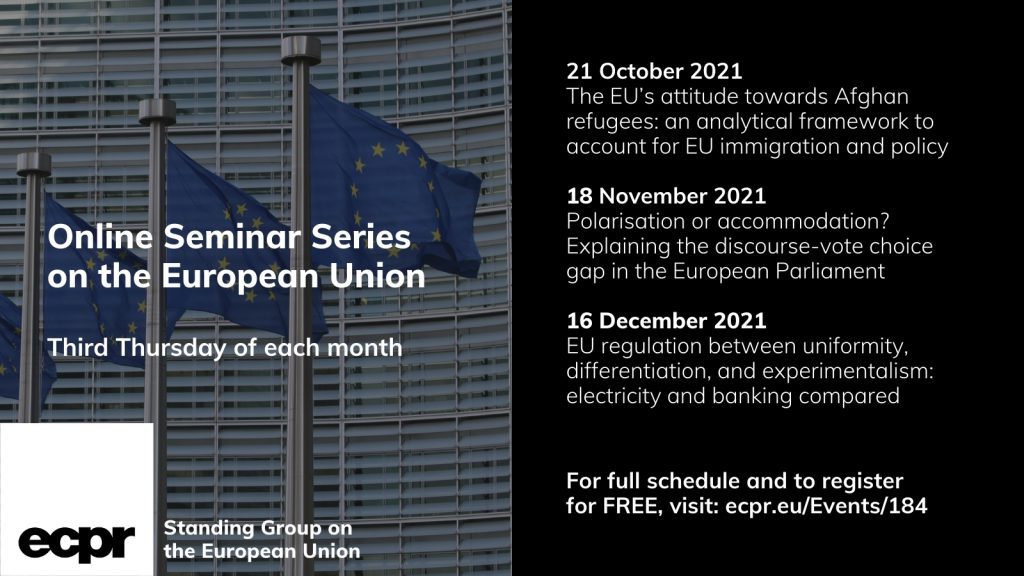 EU regulation between uniformity, differentiation, and experimentalism: electricity and banking compared
Abstract: This paper examines how far and under what conditions experimentalist governance (XG), defined as a recursive process of provisional goal setting and revision, based on comparative review of implementation in different local contexts, may be an effective and legitimate means of responding to diversity among EU member states, in comparison both to conventional uniform regulation (UR) and to differentiated integration (DI).
The paper tackles this question through a comparative analysis of EU regulatory governance in two major policy domains, where the dilemma of how to accommodate national diversity has arisen prominently: electricity and banking. Our findings show that in these two cases the conjunction of high interdependence with high uncertainty has resulted in the emergence of a distinctive type of XG architecture, combining synchronic uniformity with diachronic revisability. Under these conditions, uniform rules and practices can be accepted as effective and legitimate by EU Member States, provided they are applied in contextually sensitive ways and regularly revised on the basis of implementation experience, through deliberative review processes in which national officials themselves participate.
Our findings thus suggest that far from uniformity and experimentalism being antithetical to one another, diachronic experimentalism may be a necessary condition for synchronic uniformity of regulation within a heterogeneous polity like the EU. Our findings on EU banking regulation, where non-euro Member States may opt out of the Single Supervisory Mechanism (SSM), but where both the SSM and the European Banking Authority (EBA) operate along experimentalist lines, further suggests that XG and DI may be complementary, but asymmetrically so, in that the latter depends on the former to accommodate diversity within and across Member States, but not vice versa.
Speakers:
Antoaneta Dimitrova is Professor of Comparative Politics at Leiden University. Her research brings together different lines of inquiry relating to governance transfer across national borders.
An enduring theme in her work has been the effect of the European Union on the democratic and market transformations of the post-communist states of Central and Eastern Europe.
Another theme in her research inquires into the causes of democratic backsliding and especially the role of state capture. With various colleagues she has been investigating the European Union's Neighbourhood policy towards its Eastern neighbours – Belarus, Ukraine and Moldova in particular.
Honorata Mazepus is Assistant Professor at the Institute of Security and Global Affairs at Leiden University.
She has been awarded the Leiden University Fund Snouck Hurgronje Grant 2020 for an interdisciplinary project 'Keeping the powerful in check: from small communities to large states'. This project investigates under what conditions (democratic) checks and balances can effectively restrain the power of political leaders. It combines expertise and methods from anthropology, psychology, history, and political science.